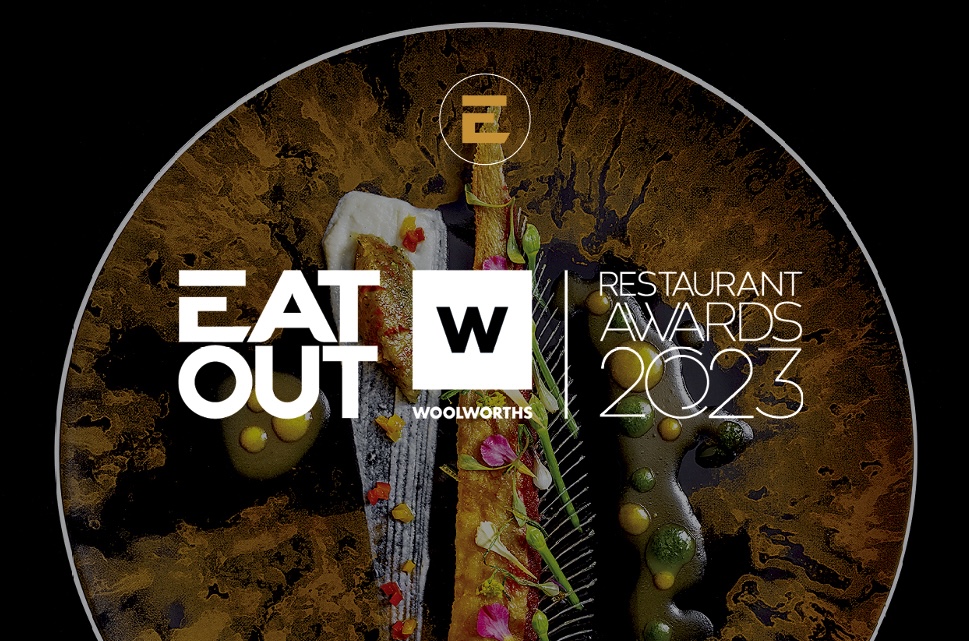 AND THE WINNERS ARE
This year's Eat Out Woolworths Restaurant Awards were announced on 19th November at a glitzy event at  at the Grand Arena at Grand West in Cape Town. The restaurants rated for the awards are selected based on several factors, including the quality of their offering – from the décor, ambience and service to the wine list, ingredients used and quality of the food. Based on their collective experience and expertise, the Eat Out team, the judging panel and the Awards chief judge then select the restaurants to be judged.
From the list over 90 restaurants are visited by the six expert judges and rated on Eat Out's online rating tool that comprises a comprehensive scorecard. Restaurants are judged in a number of categories, including:
Menu composition: 15 points
Presentation: 10 points
Taste and technique: 25 points
Beverages: 15 points
Service: 15 points
Ambience: 5 points
Perceived value: 10 points
Brand promise: 5
Five to 10 factors are rated within these categories before the entire rating is rolled up into the total score out of 100.
One star is awarded to those restaurants that scored 70 – 80, two stars to those scoring 80 – 90 and three stars to those scoring 90+, with Restaurant of the Year awarded to the establishment with the highest score.
1-Star Restaurants
Acid Food & Wine Bar (Randburg, Johannesburg)
Cavalli Restaurant (Somerset West)
Chefs Warehouse at Maison (Franschhoek)
CHORUS (Somerset West)
Creation Wines Tasting Room (Hemel-en-Aarde Valley)
Eike (Stellenbosch)
FABER at Avondale (Paarl)
Farro (Botrivier)
Fermier (Pretoria)
Le coin Français (Franschhoek)
Les Créatifs Restaurant (Bryanston, Johannesburg)
Madre Stanford (Stanford)
Orangerie at Le Lude (Franschhoek)
Ouzeri (City Bowl, Cape Town)
Post & Pepper (Stellenbosch)
Protégé (Franschhoek)
Proud Mary (Rosebank, Johannesburg)
Rykaart's (Stellenbosch)
Séjour (Houghton Estate, Johannesburg)
The Chefs' Table (Umhlanga, eThekwini)
The Melting Pot (Elgin)
The Red Room by Chefs Warehouse (City Bowl, Cape Town)
The Table at De Meye (Stellenbosch)
The Test Kitchen Fledgelings (Woodstock Cape Town)
The Waterside Restaurant (V&A Waterfront, Cape Town)
Upper Union (City Bowl, Cape Town)
Zioux (Sandton, Johannesburg)
2-Star Restaurants
Belly of the Beast (City Bowl, Cape Town)
beyond (Constantia, Cape Town)
ëlgr (City Bowl, Cape Town)
Epice (Franschhoek)
Foxcroft (Constantia, Cape Town)
Meraki by Charlie Lakin (Hillcrest, eThekwini)
Nevermind (Cape St Francis)
PIER (V&A Waterfront, Cape Town)
Restaurant Klein JAN (Tswalu)
Rust en Vrede (Stellenbosch)
Salon (Woodstock, Cape Town)
Spek & Bone (Stellenbosch)
The Jordan Restaurant with Marthinus Ferreira (Stellenbosch)
The LivingRoom at Summerhill Estate (Pinetown, eThekwini)
The Pot Luck Club Cape Town (Woodstock, Cape Town)
The Pot Luck Club Johannesburg (Randburg, Johannesburg)
Wolfgat (Paternoster)
3-Star Restaurants
ARKESTE by Richard Carstens (Franschhoek)
Chefs Warehouse Beau Constantia (Constantia, Cape Town)
Dusk (Stellenbosch)
FYN (City Bowl, Cape Town
La Colombe (Constantia, Cape Town)
La Petite Colombe (Franschhoek)
Salsify at The Roundhouse (Camps Bay, Cape Town)
51 restaurants won stars compared to 42 last year. Chief judge was Abigail Donnelly and other panel members were Joseph Dhafana, Marisa Munroe, Mokgadi Itsweng, Herman Lensing and Karen Dudley.
Special Awards
Eat Out Woolworths Restaurant of the Year
La Colombe, Constantia
Eat Out Woolworths Financial Services Chef of the Year
Ryan Cole, the head chef and co-owner of Salsify at The Roundhouse in Camps Bay
Eat Out Birkenstock Chefs' Chef of the Year Award
Ryan Cole, Salisfy
Eat Out Valpré Rising Star Award
Anwar Abdullatief of The Happy Uncles in Salt River
Eat Out Woolworths Sustainability Award
The LivingRoom at Summerhill Estate (Pinetown, eThekwini)
Eat Out Woolworths Financial Services Service Excellence Award
Meraki by Charlie Lakin (Hillcrest, eThekwini)
Eat Out Woolworths Wine Service Award
Bafana Zondo, Dusk (Stellenbosch)
Eat Out Lexus Style Award
Restaurant Klein JAN (Tswalu)
Eat Out Retail Capital Best New Restaurant Award
Boma on Bree (City Bowl, Cape Town)
Eat Out Highland Park Lannice Snyman Lifetime Achievement Award
Germain Lehodey
Eat Out Cacao Barry Dessert Award
Motheba Makhetha, The Jordan Restaurant with Marthinus Ferreira (Stellenbosch)
Eat Out Patrón Mixology Award
La Petite Colombe (Franschhoek)
Eat Out Lexus Best Destination Award
Wolfgat (Paternoster)
Eat Out Woolworths Trailblazer Award
Siba Mtongana, SIBA – The Restaurant (V&A Waterfront, Cape Town)