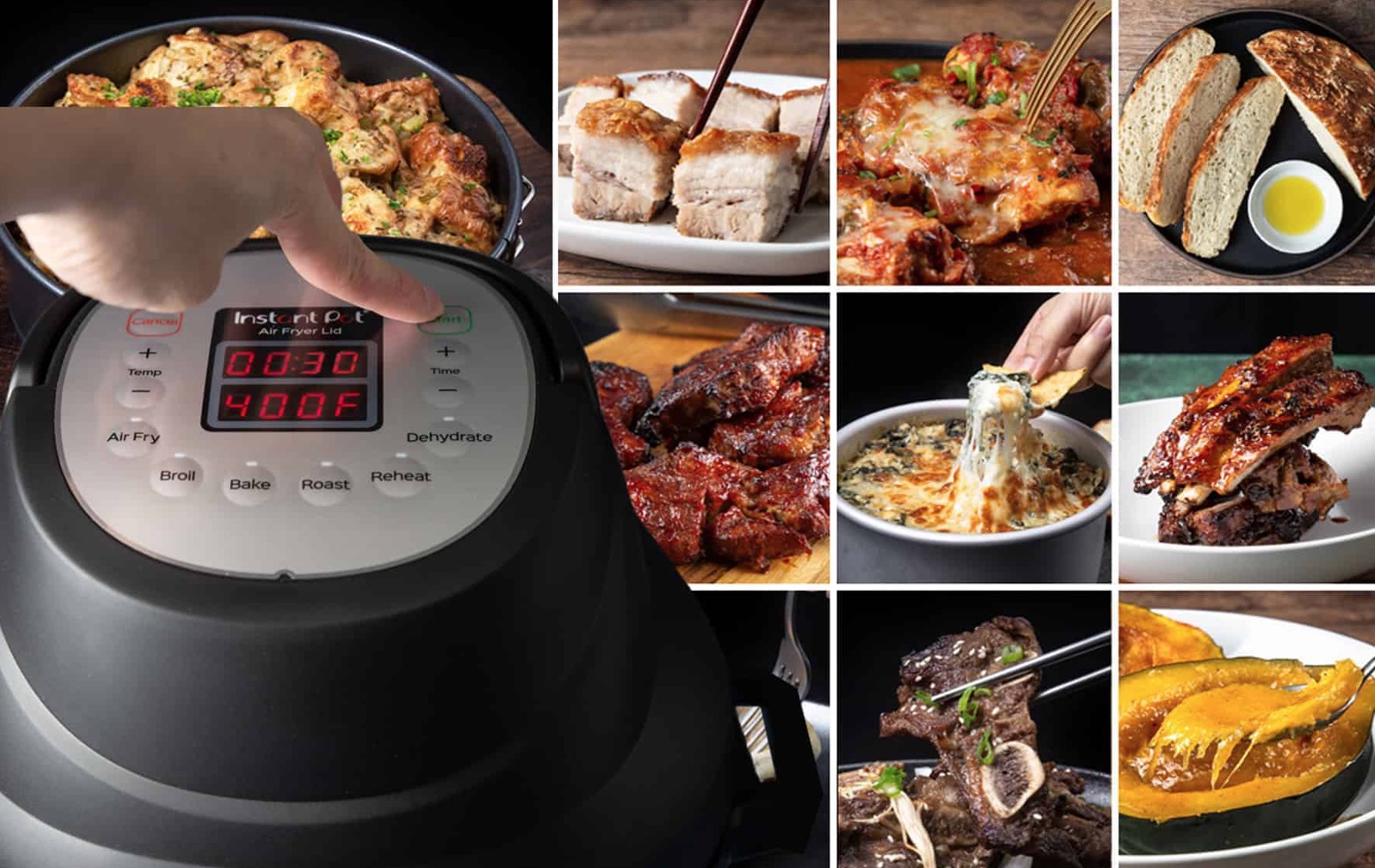 ---
OUR TOP AIR FRYER RECIPES
This kitchen appliance makes cooking SO much easier. Here are some of the most incredible things you can make using one.
Air Fryer Chicken Breast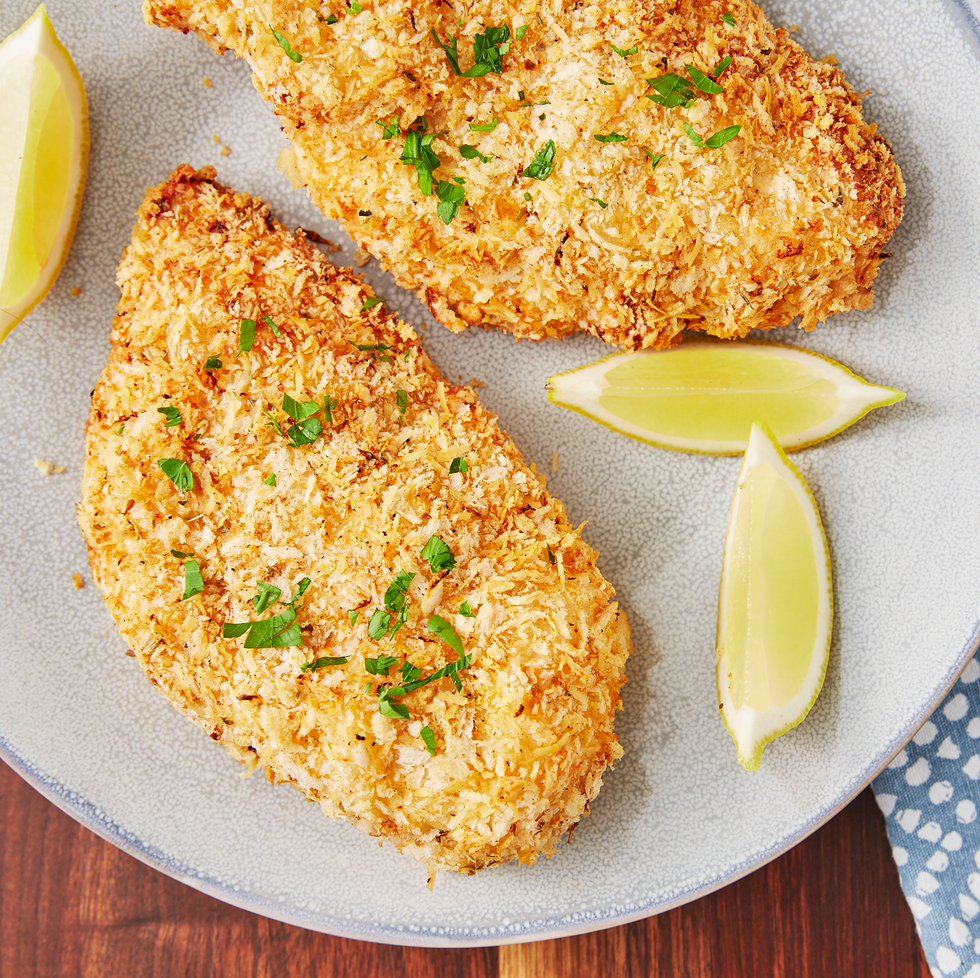 Tender, crispy, and made without a drop of oil. MAGIC. Chicken breasts have a terrible reputation for drying out, but an air fryer keeps that from happening. The quick cook time means they stay nice and tender and the breading still gets extra crispy from the intense air circulation inside these powerful little machines. All without a drop of oil. It's an actual miracle.
INGREDIENTS
1 large egg, beaten
1/4 c. all-purpose flour
3/4 c. panko bread crumbs
1/3 c. freshly grated Parmesan
2 tsp. lemon zest
1 tsp. dried oregano
1/2 tsp. cayenne pepper
Kosher salt
Freshly ground black pepper
2 boneless skinless chicken breasts
DIRECTIONS
Place eggs and flour in two separate shallow bowls. In a third shallow bowl, combine panko, Parmesan, lemon zest, oregano, and cayenne. Season with salt and pepper.
Working one at a time, dip chicken into flour, then eggs, and then panko mixture, pressing to coat.
Place in air fryer basket and cook at 375° for 10 minutes. Flip chicken, and cook for another 5 minutes, until coating is golden and chicken is cooked through.
---
Air Fryer Pizza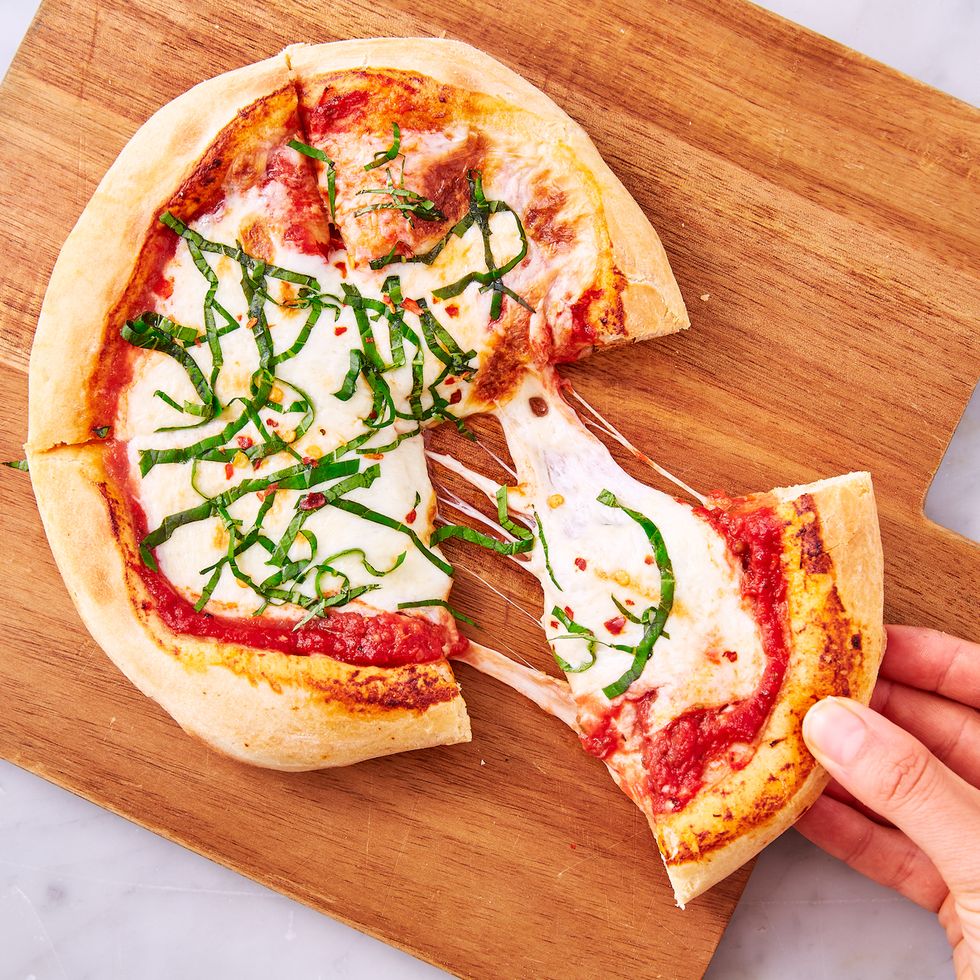 Pizza night just got a whole lot easier. This super simple recipe yields some of the best pizza to ever come out of your kitchen. The air fryer excels in cooking crust—airy in the centre and crunchy on the outside, just like in a true pizza oven! Who knew great pizza could be this easy?!
INGREDIENTS
2 (8-oz.) packages pizza dough
1 tbsp. extra virgin olive oil, divided
1/3 c. crushed tomatoes
1 clove garlic, minced
1/2 tsp. oregano
Kosher salt
Freshly ground black pepper
1/2 (8-oz.) mozzarella ball, cut into ¼" slices
Basil leaves, for serving
DIRECTIONS
On a clean, floured surface, gently flatten ball of dough with your hands until about 8" in diameter (or roughly smaller than your air fryer basket). Repeat with second dough ball. Brush both with olive oil and transfer one, oil side up, into the basket of your air fryer.
In a medium bowl, stir to combine crushed tomatoes, garlic, and oregano. Spoon half tomato mixture onto the centre of rolled out pizza dough, then spread into an even layer, leaving ½" outer crust bare.
Add half the mozzarella slices to pizza. Air fry on 400° for 10 to 12 minutes, or until crust is golden and cheese is melted.
Remove first pizza from air fryer basket using 2 pairs of tongs, and garnish with basil leaves. Assemble and cook second pizza, garnish, and serve.
---
Air Fryer Brownies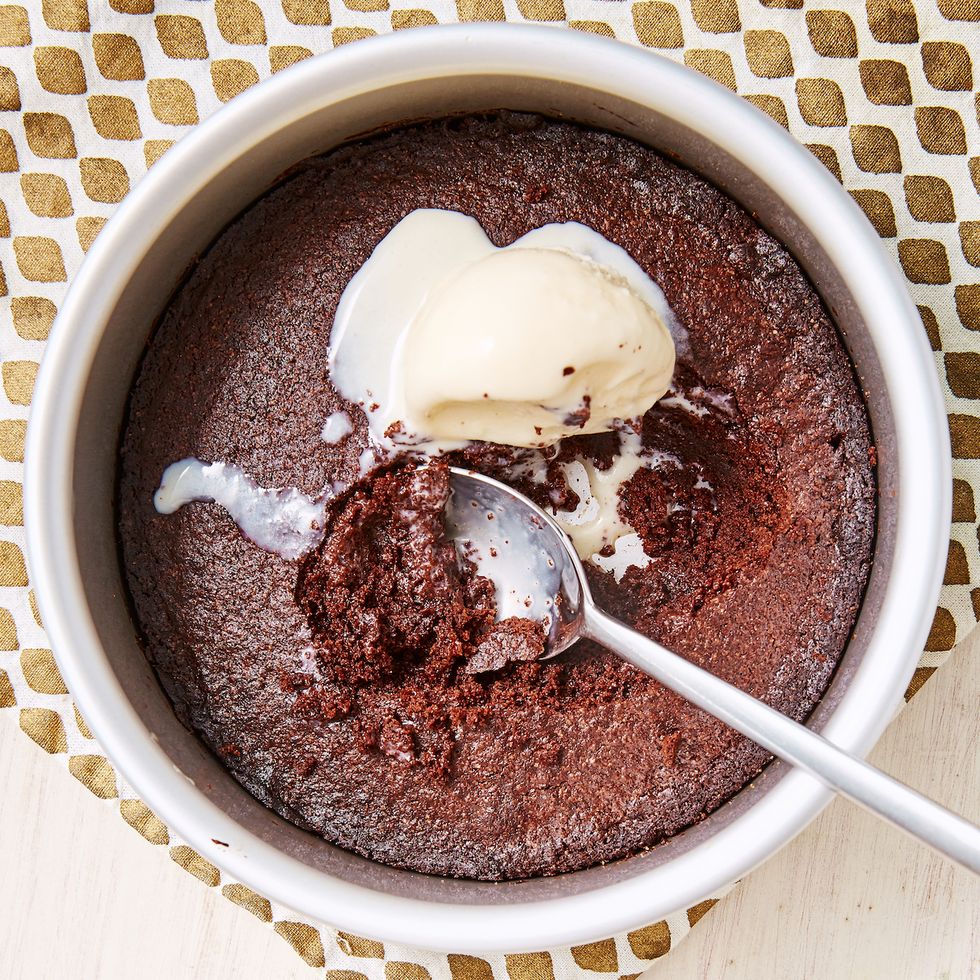 Everyone loves a good Fudgy brownie. This air fryer version "bakes" in half the time of a usual brownie, so it's safe to say we're hooked. Don't forget a big scoop of vanilla ice cream!
INGREDIENTS
1/2 c. granulated sugar
1/3 c. cocoa powder
1/4 c. all-purpose flour
1/4 tsp. baking powder
Pinch kosher salt
1/4 c. butter, melted and cooled slightly
1 large egg
DIRECTIONS
Grease a 6″ round cake pan with cooking spray. In a medium bowl, whisk to combine sugar, cocoa powder, flour, baking powder, and salt.
In a small bowl, whisk melted butter and egg until combined. Add wet ingredients to dry ingredients and stir until combined.
Transfer brownie batter to prepared cake pan and smooth top. Cook in air fryer at 350° for 16-18 minutes. Let cool 10 minutes before slicing.
---
Air Fryer Salmon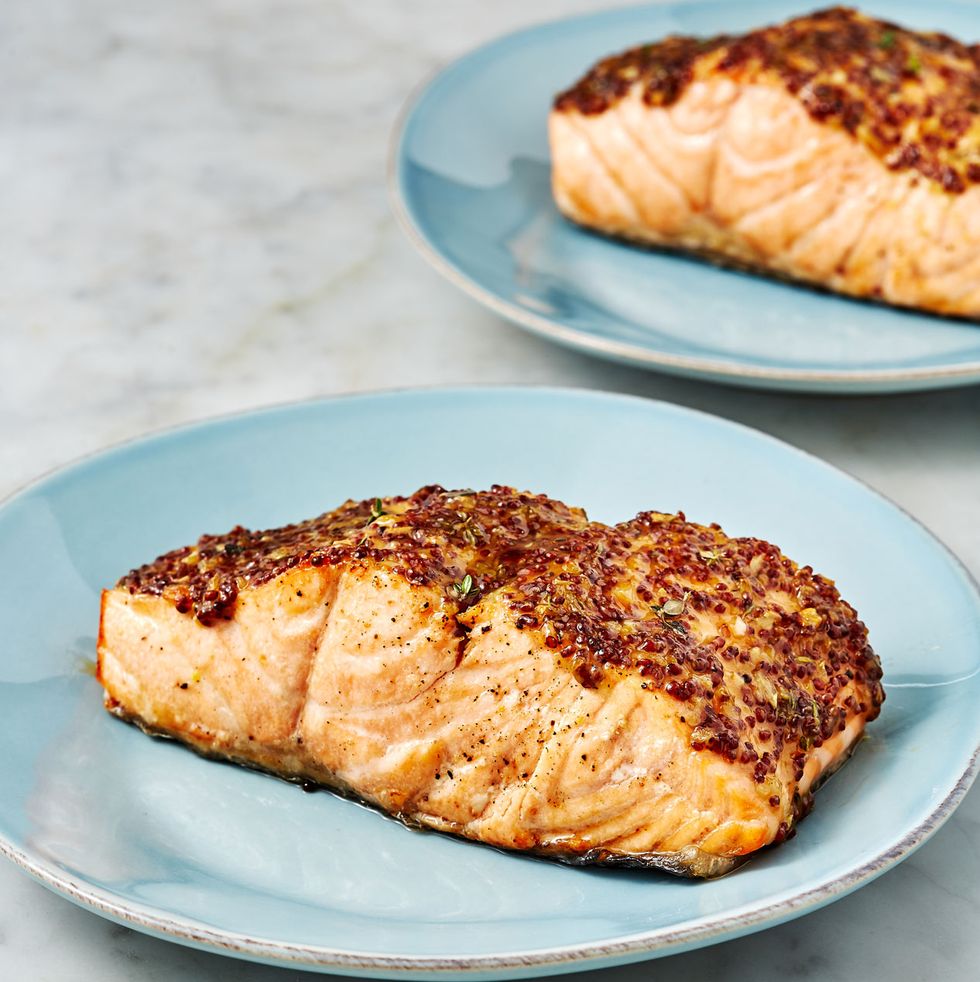 For the fastest meal ever, turn to your air fryer—it's a pro at prepping salmon. This salmon cooks in just 10 minutes and comes out perfectly tender on the inside with an amazing top crust. The sweet mustard topping makes this one of our favourite salmon dishes.
INGREDIENTS
2 (6-oz.) salmon fillets
Kosher salt
Freshly ground black pepper
2 tsp. extra-virgin olive oil
2 tbsp. whole grain mustard
1 tbsp. packed brown sugar
1 clove garlic, minced
1/2 tsp. thyme leaves
DIRECTIONS
Season salmon all over with salt and pepper. In a small bowl, whisk together oil, mustard, sugar, garlic, and thyme. Spread on top of salmon.
Arrange salmon in air fryer basket. Set air fryer to 400° and cook for 10 minutes.
---
Air Fryer Cheeseburger. Yes REALLY!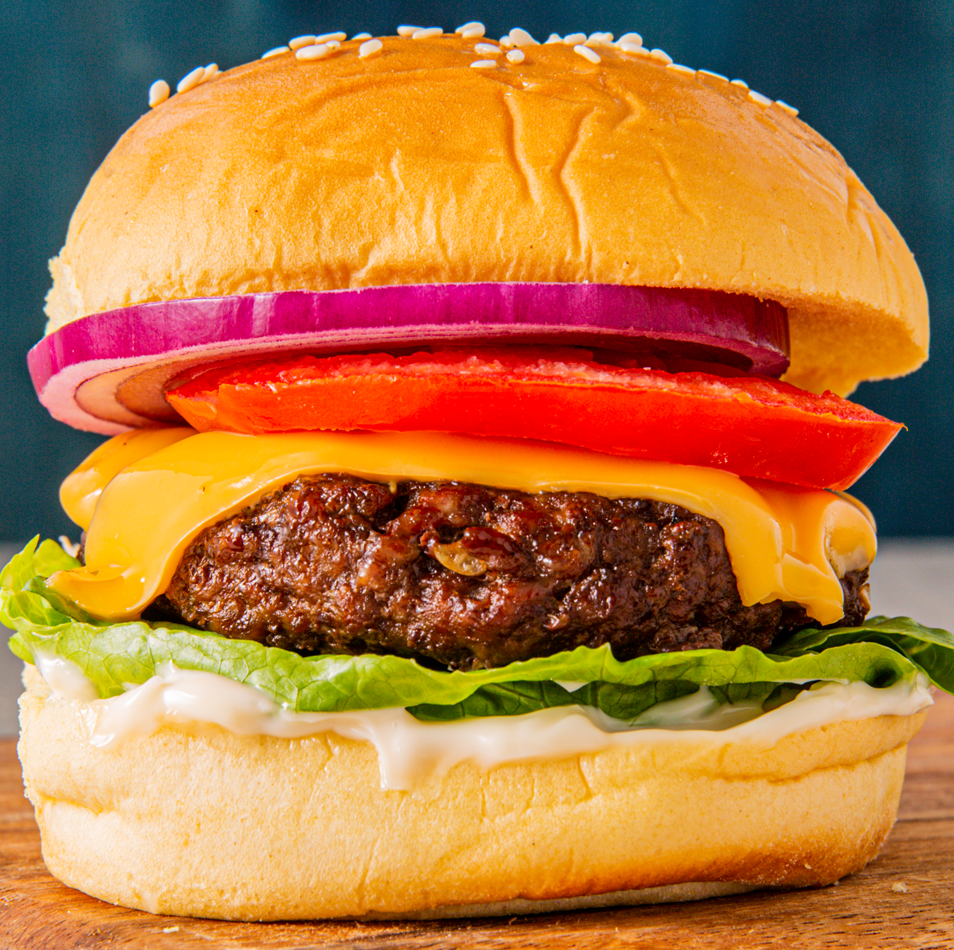 One air fryer cheeseburger and there's no going back. With the quick cook time, these burgers stay perfectly juicy and basically beg for a melty slice of cheese. Load it up with your favourite toppings and feel like the burger master you are – without all the smoke in your face.
INGREDIENTS
1 lb. ground beef
2 cloves garlic, minced
1 tbsp. low-sodium soy sauce
Kosher salt
Freshly ground black pepper
4 slices American cheese
4 hamburger buns
Mayonnaise
Lettuce
Sliced tomatoes
Thinly sliced red onion
DIRECTIONS
In a large bowl combine beef, garlic, and soy sauce. Shape into 4 patties and flatten into a 4" circle. Season both sides with salt and pepper.
Place 2 patties in air fryer and cook at 375° for 4 minutes per side, for medium. Remove and immediately top with a slice of cheese. Repeat with remaining 2 patties.
Spread hamburger buns with mayo, then top with lettuce, patties, tomatoes, and onions.